Pulses
What is a pulse? Watch the video to see a pulse harvest, and read more to learn about why pulses are good for you and the environment.
The following information was accessed from the Global Pulse Confederation (2016):
What are pulses?
"Pulses are the dried seeds of the legume plants. Hundreds of different varieties of pulses are grown around the globe. Pulses grow in pods and come in a variety of shapes, sizes and colors. The United Nations Food and Agriculture Organization (FAO) recognizes 11 types of pulses: dry beans, dry broad beans, dry peas, chickpeas, cow peas, pigeon peas, lentils, Bambara beans, vetches, lupins and pulses nes.
The term "pulses" is limited to crops harvested solely as dry grains, which differentiates them from other vegetable crops that are harvested while still green…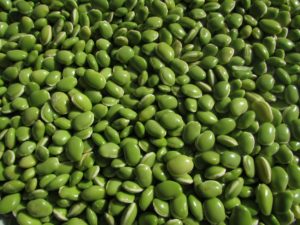 Good for You:
Pulses are healthy, nutritious and easy to cook with. They are a low fat source of protein with high levels of protein and fibre. Pulses also contain important vitamins and minerals like iron, potassium and folate.

Good for the Environment:
Growing pulses promotes sustainable agriculture, as pulse crops help decrease greenhouse gases, increase soil health, and use less water than other crops." Pulses take nitrogen directly from the air and are a key part of crop rotation.
Learn More:
Hear from pulse farmers: http://pulses.org/what-are-pulses/where-do-pulses-grow
Watch a dry pea harvest: https://www.youtube.com/watch?v=PUjJ0f943B4
---
Source:
Global Pulse Confederation (2016): http://pulses.org
Images courtesy of: https://pixabay.com/en/photos/?image_type=&cat=&min_width=&min_height=&q=pulse+crop&order=popular