Welcome Educators
Choose from one of our FREE experiences comprised of curriculum-based games, videos and activities. Register and sign in to learn more!
Journey 2050 was developed by teachers, industry experts and professional game developers. It takes 7 hours to complete the program. Curriculum links occur between grades 7-12; however, due to the high context of the program older grades and even post-secondary educators are welcome to participate.
Using a virtual farming app, interactive activities and hands-on lessons the students will explore important concepts, such as but not limited to:
The simple planting of a seed starts a RIPPLE EFFECT that helps farm families, communities, countries and the world.
Agriculture is the foundation for life. SUSTAINABLE AGRICULTURE balances economic, social and environmental factors for long term success.
To FEED THE WORLD in 2050, we will need to grow over 60% more food on the same amount of land
Register as a teacher and SIGN IN to learn more about each of our experiences. You will need to be signed in to participate in one of our experiences.
Online
Program
Global
Students from around the world can take part in this experience through this website and/or app store game. Everything is provided from lesson plans to animated videos to interactive games!
Guest Speaker
Program
North America Only. Locations Vary.
An agriculture expert comes directly to your classroom. Guest Speakers deliver 2 hours of the program and enable educators to complete the rest through the Online Program.
Field Trip
Program
Calgary, Canada
Currently available in the surrounding area of Calgary, Alberta Canada. A one-day field trip to the Nutrien Western Event Centre located at Calgary Stampede Park can accommodate up to two classrooms or 70 students per day.
Journey 2050 Educator Framework
Components of the Journey 2050 program can be leveraged across subjects and curriculums. Use the chart below as a guide for recommendations for specific courses, or build/enhance your curriculum using key concepts.
Key concepts
Agriculture
Science
Social Studies
Family/Consumer Sciences
Level 1: Sustainable Agriculture

Sustainability
Food Waste
Food Security
Human Needs
Population Growth

Level 2: Soil Health

Soil Nutrients
Plant Health
Nutrient Management

Level 3: Water

Natural Resources
Water Conservation & Preservation
Population Growth
Water Use in Agriculture

Level 4: Economy

Economics
Trade
Markets
Supply & Demand

Level 5: Land Use

Land Use
Geography
Culture
Economy

Level 6: Careers

Career Exploration
Education
Career Skills

Level 7: Technology

Technology
Innovations
Research
Food Security

Take Action

Project Based Learning Summary
Addressing complex problems
Knowledge application toward tangible outcomes
Search by "Standards" or Journey 2050 program lesson "Content" below to find the curriculum connections for your state or province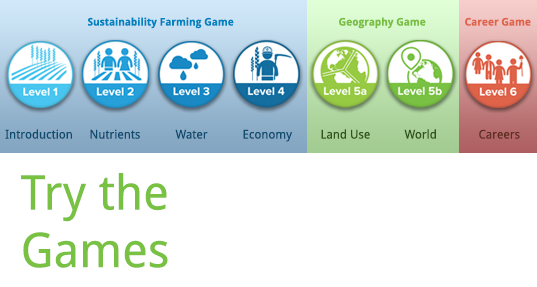 Testimonials
I just wanted to say thank you so much for the program and educating young students about the world and the environment and different issues it faces.
Anna Mcdearmond
Grade 6, Teacher, Michigan
The kids really enjoyed the experience and the opportunity to develop a plan to make a difference in their community. We will use those for our community impact project ideas this spring and summer.
Stacey Hartley
Grade 8, Teacher, Indiana
I think it is such an important topic! Thank you for making this program for our students!
Tara Edwards
Grade 8, Teacher, Utah
More Testimonials